Here is a collection of our most frequently asked questions, if you can't find your answer here please contact us and we will do our best to help!
When will I receive my item if I order today?
All of our product lead time estimates are displayed below the "Add to basket" button.
This gives a guide as to our current delivery schedule and we aim to keep this updated as regularly as possible.
Orientation, do I need a right or left handed tree shelf?
The orientation of our branch shelves refers to the side that it would be fitted on when you are stood facing the wall. It can also be thought of as the side the branch starts or "grows" from.
The orientation for tree shelves (where applicable) refers to the side that the trunk is positioned on.
How are the tree shelves fixed to the wall?
The tree shelves fix to the wall via corner brace plates fitted in discreet positions which are most likely to be covered up or out of sight once installed.
The picture below shows a typical branch shelf bracket position.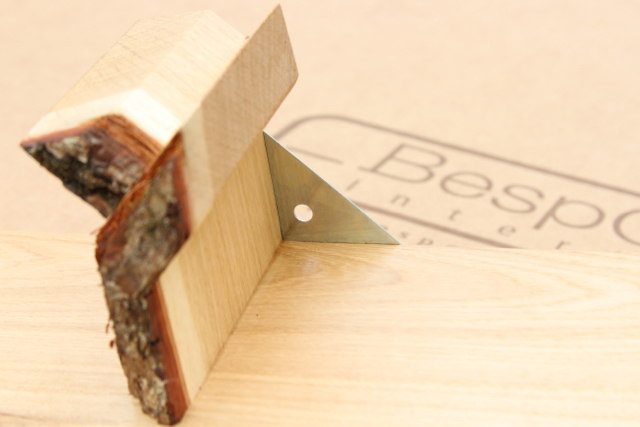 Can I order a different colour or finish of shelf?
Absolutely… we can do custom finishes to suit almost any scheme.
Please contact us to discuss the options of different finishes and stains.
Will the bark peel on my shelf?
All of the oak boards that we use are kiln dried. As a rule of thumb if the bark is going to peel it will happen during the kiln drying stage as this is when the wood undergoes it's most dramatic change in moisture content.
Some of the boards that we receive have peeling bark and these are used for the waney edged shelves. The boards which still have complete bark edges intact are specially selected and used for our bark edged shelves.
There is of course a slight chance that the bark may come loose in time although to date we have had no reported cases of this.
Can your shelves be fitted to a plasterboard wall?
Our tree shelves can be fitted to plasterboard walls with no impact on their strength.
The wall plugs that we currently provide with our tree shelves are suitable for both solid and plasterboard walls.
We offer a range of fixing options for our floating shelves;
Our plasterboard floating shelves are designed to be solely fitted on plasterboard with no need for fixing into stud work. These are however, limited to 150mm depths.
Our solid wall shelves can only be fitted to plasterboard walls if the fixings are aligned with stud work. These are available in a much wider range of sizes up to 400mm depths.