How deep should floating shelves be? It might seem straightforward selecting a depth for floating shelves. However, there are a few important things to consider. (When we say "depth" we mean how far the shelf sticks out from the wall – also often referred to as "width".)
Firstly, you need to consider the wall type you are intending to fit the shelf to, especially if using concealed floating shelf brackets. This is because the strength of the wall type may limit what depth of floating shelf you are able to fit. The main three wall types are solid wall, plasterboard wall and dot and dab wall. If you are unsure what type of wall you have, our post here may help you identify it.
Once you have identified the wall type and any size limitations as a result, you can then choose a suitable shelf depth, taking into account the size of the items you intend to place on the shelf. This handy guide will help you make sure you buy the right floating shelf for your purpose.
100mm Deep Floating Shelves

100mm deep shelves are great for small, tight spaces. They are well suited for displaying small items such as photo frames. Fit them in a bathroom for a small toothbrush shelf or ledge underneath a mirror. This depth of shelf will be very lightweight, so you can install them with floating shelf brackets to solid walls, plasterboard walls and dot and dab walls. For this size of shelf we recommend our Multi Wall Concealed Floating Shelf Bracket in all wall types, using the short 80mm barrel. You can use these brackets in shelves as thin as 20mm.
150mm Deep Floating Shelves
150mm deep shelves offer a bit more practical shelf space, as they are large enough to accommodate small books and ornaments. They make a great floating surface for a porch or entrance hall as they won't protrude too far into the room. As above, this shelf depth is suitable for all wall types using our multi wall floating shelf brackets. However, in this case, we recommend the long 120mm barrel.
---
200mm Deep Floating Shelves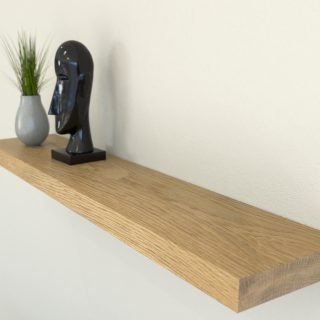 A 200mm depth is what we would consider a standard depth floating shelf. Great for plants, bigger ornaments and standard sized books, these are great size wall shelves for everyday use. However plasterboard floating shelf brackets are generally not able to support this depth, due to the leverage placed upon the plasterboard. Therefore we only recommend the solid wall and dot and dab wall variations of our floating fixings, again with the 120mm barrel.
Note – if your plasterboard wall is constructed with timber studs or battens and you are able to line up your fixing points with enough of these in the right place, then you can get around this problem by securing the shelves to the studs using the solid wall bracket variation. Metal studs are not suitable.
250mm Deep Floating Shelves
250mm deep wall shelves offer extra practical shelf space, perfect for holding more of what you love. Also great for bigger books such as cook books and for general use in kitchens, for holding jars and crockery. The same applies for fitting this shelf depth with floating shelf brackets as the 200mm depth.
---
275mm-400mm Deep Floating Shelves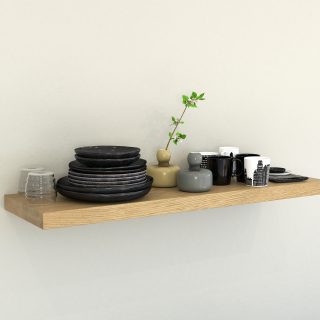 275mm deep is the point at which we upgrade the floating fixings to heavy duty ones. These Heavy Duty Floating Shelf Brackets are designed for use in floating shelf depths up to 400mm. We recommend a minimum 35mm thick shelf for these brackets due to the size of the retaining plate. They are extremely strong and very versatile. However, they are only suitable for fitting to solid walls or into solid material (e.g. timber studs). Dot and dab walls are possible, although it requires a different fitting process. This process is explained in more detail in our FAQs.
Using these heavy duty brackets with deep shelves means they are ideal for supporting large, heavy items. For example, set top boxes, games consoles, amplifiers or creating a floating bedside table. Many customers also use these heavy duty wall shelves for supporting sinks and basins in a bathroom.
---
After considering all of the above factors, you may find that floating shelf brackets are not suitable for your combination of wall type and shelf depth. In this case, you may need to consider traditional, visible shelf brackets, such as triangular shelf brackets or scaffold brackets.
We hope you found this guide helpful. If you have any questions regarding the information detailed in this guide, or have suggestions for future topics, please contact us.