fischer Fixings have released new and improved versions of their original SX Expansion Wall Plug and FAZ II Bolt Anchor, adding "Plus" to the title. Introducing the new SX Plus Expansion Wall Plug and FAZ II Plus Bolt Anchor! (Please note that both original products are being discontinued and are only available while stocks last.)
So what's different with the "Plus" versions in comparison to the originals? Keep reading to find out!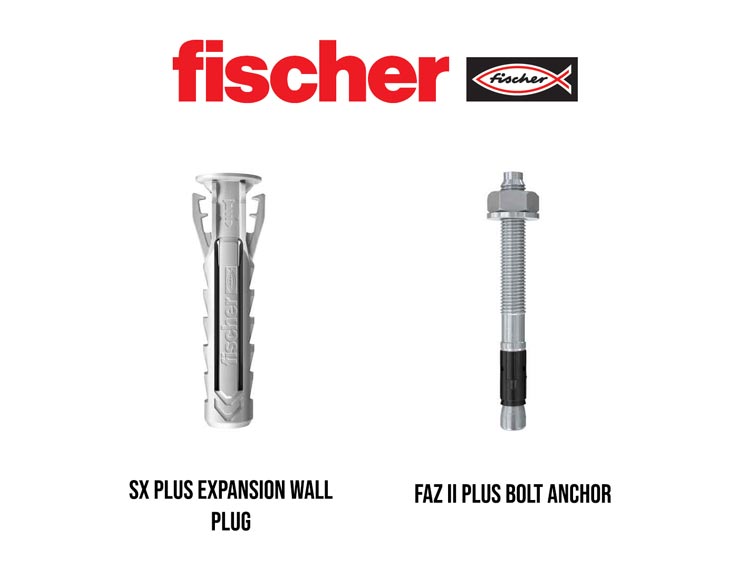 Designed to be a high quality replacement for the traditional red, yellow and brown wall plugs.
New fixing wings lock the screw into place after inserting the plug – perfect for overhead applications like lighting.
Improved tightening torque makes it easier to identify when the the screw is properly installed.
Original features such as four way expansion in solid and hollow building materials, serrated edges and a pronounced rim, all remain the same with the new SX Plus.
Increased tensile strength means fewer anchors and fixing points are necessary.
Now suitable to fit in steel fibre concrete and solid sand lime brick, as well as concrete (cracked and non-cracked).
Diameters 10mm-24mm can absorb seismic loads (performance categories C1 and C2).
Diameters 16mm-24mm now have approval for dynamic loads, such as lifting platforms and conveyor belts.
Cleaning of the drill hole beforehand is no longer essential, meaning installation is quicker and easier.
10mm-24mm diameters have a 120 year service life.
The new FAZ II Plus still functions in the same manner as the original, with an expansion sleeve that secures it in the drill hole upon tightening.
If you have any questions about the new fischer SX Plus, FAZ II Plus or any other products in the fischer range, please do not hesitate to contact us. You can find out more about fischer themselves on their website here.
*We are an authorised fischer distributor but this post is not an ad and does not contain affiliate links.