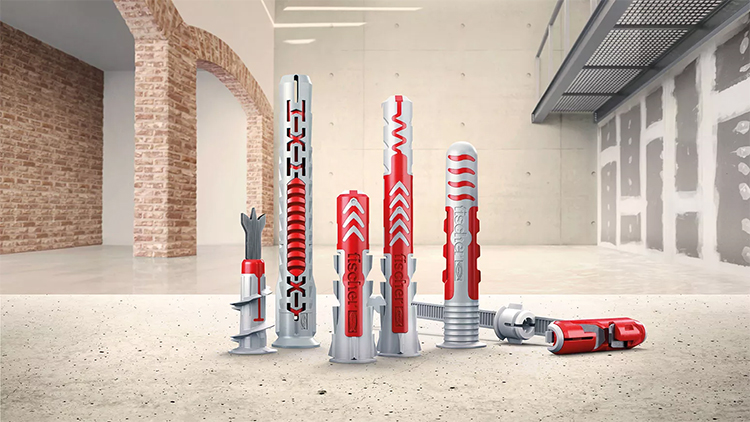 What is the fischer DuoLine range?
The fischer DuoLine range consists of cleverly designed, high quality wall plugs, many of which are award winning across the globe. There are five different types of wall plugs within the range. Each provides a different function into varying types of walls and building materials. Fischer describe this range as a "duo of power and intelligence".
What sets the DuoLine wall plugs apart from others?
All of the DuoLine wall plugs are made from two components, which is highly noticeable from the contrast of colours. Firstly is the grey nylon and secondly is the red polypropylene. Generally speaking, the combination of these components means the wall plug has more capacity to expand. This results in a more secure fixing and a higher load capacity per wall plug. The red polypropylene is softer than the grey nylon, which means it is able to expand more easily. As it expands, it is also able to adjust as appropriate into the specific wall or building material. Therefore the majority of the DuoLine range are suitable for use in more than one type of wall or building material.
What wall plugs are in the fischer DuoLine range?
fischer DuoPower Wall Plug – Arguably the best known product in the DuoLine range. Its clever design means that it either expands, folds or knots; it automatically adjusts depending on the wall type. Therefore we recommend the DuoPower wall plug if you do not know what kind of wall/material you are fixing into. It is also ideal if you are fixing to multiple wall types in the home. For example, you are fixing to an internal plasterboard wall and then an external brick wall and do not want to buy a different plug for each.
fischer DuoTec Plasterboard Toggle Fixing – A heavy duty fixing for fitting directly to plasterboard walls, drywall and wooden panels. It is also suitable for use in solid materials, where is acts like an expansion plug. This is perfect if you hit a timber stud or batten behind the plasterboard, saving the time and money of having to source an alternative plug. We are so impressed with the DuoTec fixing that we use it as part of the plasterboard variation of our Multi Wall Concealed Floating Shelf Brackets.
fischer DuoBlade Plasterboard Wall Plug – A lighter duty alternative to the DuoTec, for fitting directly to plasterboard. This is the only wall plug in the DuoLine range not able to adapt to other wall or material types. It has a self-drill tip for easy installation.
fischer DuoSeal Wall Plug – This wall plug is specifically for use on tiles in wet areas. The name DuoSeal highlights the fact that this plug automatically seals the drill hole in the tile. Therefore there is no need for any sealing compound. It works similarly to the DuoPower wall plug, as it is able to automatically adjust to the wall type behind the tile.
fischer DuoXpand Frame Fixing/Dot and Dab Wall Plug – The newest addition to the DuoLine range, primarily for fixing either timber or metal to masonry. It can adapt to secure in solid, hollow and perforated masonry. The fischer DuoXpand also has the capability for use as a dot and dab wall plug thanks to its long fixing length.
(Click on the green product names to read about each one in more detail.)
What are the negatives of the fischer DuoLine range?
Be prepared to pay more for the fischer DuoLine wall plugs compared to your average plastic and nylon wall plugs.
Summary
The fischer DuoLine wall plugs are a premium range, consisting of high quality, adaptable and flexible wall plugs. They are suitable for a wide variety of applications and wall types. They are more expensive in comparison to others on the market, but in return you can be assured of a reliable, secure fixing.
*We are an authorised fischer distributor but this post is not an ad and does not contain affiliate links.